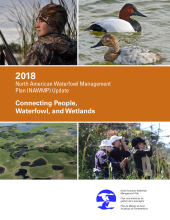 The 2018 North American Waterfowl Management Plan (NAWMP) Update—Connecting People, Waterfowl, and Wetlands—continues a legacy of innovation and collaboration that is grounded in 32 years of successful waterfowl and wetlands conservation across the continent. Since its inception in 1986, the Plan has engaged governments, conservation organizations, landowners, and citizens throughout Canada, Mexico, and the United States using a widely acclaimed partnership model of waterfowl management.

The 2012 Plan Revision presented a new strategic direction that challenged the waterfowl community to expand support from our hunters and other citizens to achieve interrelated goals for people, waterfowl populations, and wetland conservation.  This 2018 Plan Update presents examples of our countries' combined progress toward achieving the goals of the 2012 Revision. It also establishes important groundwork for incorporating an understanding of people's relationship with nature into the North American waterfowl conservation enterprise.

The people of our nations appreciate and value the natural benefits provided by the habitats conserved under the NAWMP. The 2018 Plan Update emphasizes that understanding people's preferences and perspectives is critical both to meeting their needs and gaining their support for conservation. We must reimagine our waterfowl conservation work in the context of a changing social-ecological landscape that is transforming the connection of people to the natural world. To maintain these links, we must continue to work diligently to engage our citizens, our communities, and our countries in conserving waterfowl, wetlands, and the natural benefits they provide.

We recognize the historic contribution that hunters and other outdoor recreationists have made to conservation efforts continent‑wide—most notably those in the waterfowl and wetland conservation community. We remain steadfast in support of this North American model of wildlife conservation and recognize the value of the public-private partnerships for waterfowl and wetlands conservation that form the foundation of the NAWMP.

As we look to the future, the importance of the natural world to the health and welfare of our citizens has never been more important. This Plan continues to advance the legacy of international cooperation toward securing the astonishing diversity and abundance of North American waterfowl for current and future generations. In doing so, we remain committed to promoting the natural connections that exist among people, waterfowl, and wetlands—relationships that will ensure a sustainable future for all our citizens.