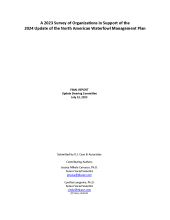 A 2023 Survey of Organizations in Support of the
2024 Update of the North American Waterfowl Management Plan
FINAL REPORT
Update Steering Committee
July 13, 2023
As part of the assessment of the NAWMP 2024 Update, a qualitative survey was sent to waterfowl and wetland conservation stakeholders in North America. This summary is intended to inform discussions of the Update Steering Committee.
The Organizational survey was an open-ended, qualitative survey, designed and conducted in the same manner as the 2017 organizational survey. Requests were sent to representatives of 102 organizations. These organizations included state and federal agencies and conservation not-for-profits across North America. A total of 20 responded to the survey, though respondents did not always answer all questions. Due to the qualitative nature of the survey and the response rate, it is important to not treat the information as quantitative data. Rather, here we provide a summary of the responses to each of the questions posed to reveal important information about the direction and concerns of NAWMP related organizations that responded to this survey request.
Results
Respondents included representatives from JVs, organizations, and agencies. The survey and email invitation to participate can be found in the appendix of this document. Summaries of responses are provided below for each of the qualitative questions asked.