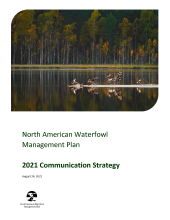 Waterfowl habitats like wetlands and grasslands are among North America's
most important ecosystems. They are key to clean water, clean air and abundant
 healthy wildlife.
For 32 years, the North American Waterfowl Management Plan (NAWMP) has been the most powerful and effective mechanism to safeguard these habitats. As environmental issues of the 21st century challenge conservation efforts in new ways, continuing to deepen the legacy and impact of the NAWMP is critical.
Developing a communication strategy that celebrates the accomplishments, emphasizes the need and showcases the wide-ranging benefits of NAWMP is an important step in securing its future—and the future of millions of migratory birds that depend on it.   
------------------
Background
While NAWMP is a highly successful international conservation program, there is a perception that it has "lost its luster" over the decades. A recent report from the Max McGraw Wildlife Foundation also highlighted a lack of understanding of NAWMP investments and their impacts on waterfowl habitats. 
The NAWMP Communications Committee was established to develop and guide the implementation of a broad communications strategy that will promote the continued—and enhanced—support of NAWMP. This plan is designed to identify key audiences and messages to help ensure that NAWMP remains relevant in the future. Its tactics will showcase the importance of conserving waterfowl and wetland ecosystems and the benefits hunters, bird watchers, all wildlife enthusiasts and the public derive from these conservation activities.
Key challenges/threats to the continued success of NAWMP include:
Decreased financial support for Joint Ventures and NAWMP infrastructure

Decreased relevancy of migratory bird programs.

Viewed as "well established" (victim of our own success).

Political churn of individuals in higher levels of governments (impedes the ability to build strong relationships with "champions" who can advocate on behalf of NAWMP).

Lack of understanding of NAWMP and related enterprises by both U.S. and Canadian federal administrations.

Concerns pointed out in McGraw Foundation report

Lack of awareness of NAWMP

Need for better information sharing amongst partners and key audiences about NAWMP and why it is important.


 

Political challenges resulting from lack of understanding about NAWMP that exists at all levels—from government leaders to duck hunters.  

NAWMP is seen as diametrically opposed to the objectives of the agricultural industry, in some jurisdictions.

The environment is increasingly seen as a partisan issue in an increasingly divisive political system.
The looming waterfowl crisis

While ducks and wetlands are not currently in a state of crisis as compared to other species and issues, we continue to lose wetlands and the benefits associated with them.
Climate variation and its potential impact for shorter/warmer winters could reduce runoff to wetlands (despite increased precipitation) and cause droughts to be longer or more frequent. Because of this, it is more important than ever to continue the success of NAWMP and protect our wetlands.
Download the PDF for the full Plan below.