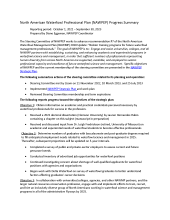 North American Waterfowl Professional Plan (NAWPEP) Progress Summary

Reporting period: October 1, 2022 – September 30, 2023
Prepared by Diane Eggeman, NAWPEP Coordinator

The Steering Committee of NAWPEP works to advance recommendation #7 of the North American Waterfowl Management Plan (NAWMP) 2018 Update: "Bolster training programs for future waterfowl management professionals." The goal of NAWPEP is to: Engage and assist universities, colleges, and all NAWMP partners with establishing, sustaining, and enhancing academic and experiential programs in waterfowl science and management, in order that sufficient numbers of professionals representing human diversity from across North America are supported, available, and employed to sustain professional capacity and excellence of future waterfowl science and management. Specific objectives of NAWPEP and the current membership of the steering committee are presented in the NAWPEP Strategic Plan.

The following summarizes actions of the steering committee related to its planning and operation:
• Steering Committee met by Zoom on 11 November 2022, 10 March 2023, and 25 July 2023
• Implemented NAWPEP Strategic Plan and work plan
• Reviewed Steering Committee membership and term expirations
For a full listing of progress items, check out the document below.