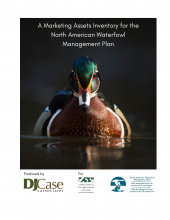 Since its inception in 1986, the North American Waterfowl Management Plan (NAWMP) has grown into one of the world's most successful conservation initiatives by:
● developing what is today a series of independent, locally-directed, public/private migratory bird conservation partnerships spanning the continent;
● recognizing the inextricable link between healthy economies, healthy wildlife, and wetland resources;
● adopting a relentless quest to improve the science and drive innovation in voluntary, incentive-based conservation actions; and
● embracing collaboration.

Yet, there are serious concerns about the status of wetland habitats, waterfowl, and other wildlife that depend on them for survival. In 2020, the NAWMP Plan Committee endorsed a NAWMP Communication Strategy that identified four key issues:
1. decreased financial support for Joint Ventures and NAWMP infrastructure;
2. concerns expressed in relevant reports regarding insufficient communications about NAWMP;
3. political challenges resulting from lack of understanding about NAWMP that exists at all levels—from government leaders to duck hunters; and
4. the looming declines in waterfowl populations.

On January 25, 2022, DJ Case & Associates (DJ Case) was contracted by the Association of Fish and Wildlife Agencies (AFWA) to conduct a Marketing Assets Identification project to be used as a foundation for building out and implementing the Communication Strategy. The project will result in two key deliverables from DJ Case:
● A comprehensive electronic inventory of existing marketing assets for the North American Waterfowl Management Plan (NAWMP) such as print materials, social media content, website content, research, data, schematics, flow charts, notes, text, graphics, video, editorial content, and the like used in connection with past or proposed marketing and communication
campaigns.
● Product requirement definitions, prototype specifications (brand guide), and recommendations for development of new marketing assets.

This document represents the final project deliverables from DJ Case.