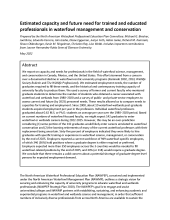 Estimated capacity and future need for trained and educated professionals in waterfowl management and conservation

Prepared by the North American Waterfowl Professional Education Plan Committee: Michael G. Brasher, Joel Brice, Eduardo Carrera, John Eadie, Diane Eggeman, Justyn Foth, Adam Janke, Richard M. Kaminski, Shaun Oldenburger, Kevin M. Ringelman, Christian Roy, Lisa Webb. Includes important contributions from Lauren Hernandez-Rubio Senn of Clemson University.

May 2022
Abstract
We report on capacity and needs for professionals in the field of waterfowl science, management, and conservation in Canada, Mexico, and the United States. This effort stemmed from a concern over a documented decline in waterfowl-centric university programs (Kaminski 2002, 2013; Wildlife Society Bulletin and The Wildlife Professional). We estimated employment needs, the number of graduates required to fill these needs, and the historical and contemporary training capacity of university faculty to produce them. We used a survey of former and current faculty who mentored graduate students to determine the number of students who obtained a career associated with waterfowl and wetlands from 1980–2020 and a survey of public- and private-sector employers to assess current and future (by 2025) personnel needs. These results allowed us to compare needs to capacities for training and employment. Since 2000, about 10 waterfowl-wetlands post-graduate students acquired employment per year in the profession. Individual waterfowl professors graduated about 0.62 M.S. or Ph.D. students on average per year over the 1980–2020 period. Based on current numbers of waterfowl-focused faculty, we might expect 142 graduates to enter waterfowl or wetlands careers during 2022-2025. However, this may be an over-prediction considering (1) some portion of the 142 graduates would likely enter careers unrelated to waterfowl conservation and (2) the looming retirements of many of the current waterfowl professors with their replacement being uncertain. Sixty-five percent of employers indicated they were likely to hire graduates with specific training or experience in waterfowl science, management, or conservation by the end of 2025. Employers reported a current workforce of 949 waterfowl-specific employees, of which 346 (36%) hold positions where a graduate degree is either required or preferred. Employers expected more than 350 employees across the 3 countries would be needed to fill waterfowl-related positions by the end of 2025, and 34% (or 118) would require a graduate degree. We conclude that there remains a valid concern about a potential shortage of graduate-degree level persons for expected employment demand.
See the full report in the document link below.