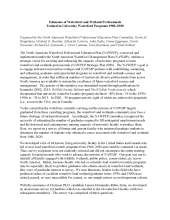 Estimates of Waterfowl and Wetland Professionals
Trained in University Waterfowl Programs 1980–2020
Prepared by the North American Waterfowl Professional Education Plan Committee: Kevin M. Ringelman, Michael G. Brasher, Eduardo Carrera, John Eadie, Diane Eggeman, David Howerter, Richard M. Kaminski, J. Drew Lanham, Tom Moorman, and Frank Rohwer
The North American Waterfowl Professional Education Plan (NAWPEP), conceived and implemented under the North American Waterfowl Management Plan (NAWMP), outlines a strategic vision for securing and enhancing the capacity of university programs to train waterfowl and wetlands professionals (NAWPEP Strategic Plan 2020).  The NAWPEP's goal is to engage and assist universities/colleges and NAWMP partners with establishing, sustaining, and enhancing academic and experiential programs in waterfowl and wetlands science and management, in order that sufficient numbers of inclusively diverse professionals from across North America are available to sustain the excellence of future waterfowl science and management.  The genesis of this initiative was stimulated in part through publications by Kaminski (2002, 2013; Wildlife Society Bulletin and The Wildlife Professional), which documented that university waterfowl-centric programs declined ~40% from ~55 in the 1970s–1990s to ~33 in 2013.  In 2020, ~30 programs persist, eight of which are endowed in perpetuity (i.e., seven in the USA, one in Canada).
To the extent that the workforce currently carrying out the mission of NAWMP largely graduated from these vanishing programs, the waterfowl and wetlands community may face a future shortage of such professionals.  Accordingly, the NAWPEP committee recognized the necessity of estimating the number of graduates required to fill anticipated employment needs and the historical and contemporary training capacity of university faculty to produce them.  Here, we report on a survey of former and current faculty who mentored graduate students to determine the number of students who obtained a career associated with waterfowl and wetlands from 1980–2020.
We developed a list of 64 known living university faculty in the United States and Canada who led or now lead waterfowl-centric programs from 1980–2020 and could be contacted via email.  Thus, survey recipients were not randomly selected and did not encompass the entire training capacity for professionals who work to advance the mission of NAWMP.  Our goal was not to identify all faculty engaged with wildlife, wetlands, public policy, conservation, etc. across North America.  Rather, because faculty who led or currently lead waterfowl-centric programs may be especially likely to produce graduates who obtain careers in waterfowl and wetlands, they were of particular interest to survey. We note that many leaders in the field who have produced cadres of excellent waterfowl and wetland graduates in the 1970s and 1980s have retired, passed, or were unavailable for contact, so our sample misses several important cohorts.
Download the full report below.