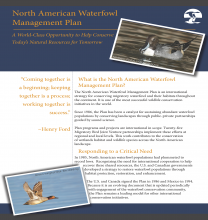 Based on the 2012 Value Proposition flyer, a revised (and shorter) promotion on the need and value of becoming a NAWMP Partner:
What is the North American Waterfowl Management Plan?
The North American Waterfowl Management Plan is an international strategy for conserving migratory waterfowl and their habitats throughout
the continent. It is one of the most successful wildlife conservation initiatives in the world.
Since 1986, the Plan has been a catalyst for sustaining abundant waterfowl populations by conserving landscapes through public-private partnerships
guided by sound science.
Plan programs and projects are international in scope. Twenty-five Migratory Bird Joint Venture partnerships implement these efforts at regional and local levels. This work contributes to the conservation of wetlands habitat and wildlife species across the North American landscape.
Responding to a Critical Need
In 1985, North American waterfowl populations had plummeted to record lows. Recognizing the need for international cooperation to help recover these shared resources, the U.S. and Canadian governments developed a strategy to restore waterfowl populations through habitat protection, restoration, and enhancement.
The U.S. and Canada signed the Plan in 1986 and Mexico in 1994. Because it is an evolving document that is updated periodically with engagement of the waterfowl conservation community, the Plan remains a leading model for other international conservation initiatives.
Dynamic Partnership
The North American Waterfowl Plan has pioneered a successful collaborative approach, forging strong alliances to achieve healthy and sustainable landscapes.
It relies on conservation organizations joining forces with federal, provincial, and state governments, industry, private companies, individuals, and private landowners.

Why Become a Partner with the Plan?
The Plan articulates a clear vision to move forward with a comprehensive, science-driven approach to waterfowl conservation that coordinates and integrates efforts across North America.
By participating in the Plan, you work with a dynamic group of government agencies, world-renowned conservation organizations, and thousands of individuals across North America to implement high priority conservation projects accruing perpetual benefits to waterfowl, wetlands, and society. Opportunities to participate are many and include helping to conceive and implement habitat restoration and protection projects, becoming involved in strategic planning and landscape design efforts, and investing conservation dollars in support of the work of plan partners.
One of the Plan's greatest strengths is the ability of its partners to quickly pool and leverage conservation funding from a variety of sources. This expands the Plan's conservation reach and supports strategically targeted local, regional, and international habitat conservation projects.
To learn more about NAWMP and becoming a partner, check out the full document below.