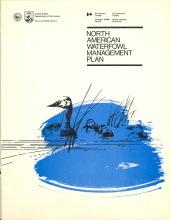 Losses of breeding, migration and wintering habitats have resulted in alarming declines in some waterfowl species.
To cope with this, current programs are in critical need of expansion, and new initiatives should be devised and carried out.
This Plan presents what wildlife managers in the two countries believe to e appropriate waterfowl population goals to meet public demand, and actions needed to achieve these goals. It has been reviewed by public and private conservation organizations, and the general public; and many of their comments have been incorporated in the text.  It provides information for those who enjoy and value waterfowl and describes the actions and the size of the task necessary to achieve the goals.