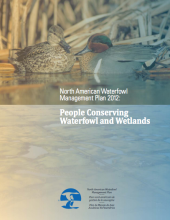 December 19, 2012
Over its first 25 years, the North American Waterfowl Management Plan (NAWMP) has become a model for international wildlife conservation. In large measure, this is because it has evolved with engagement of the broad waterfowl conservation community.  Previous Plan updates – in 1994 (when Mexico became a signatory), 1998 and 2004 – described abundant waterfowl populations as the Plan's ultimate goal, pursued through large-­scale partnership­-based habitat conservation.
This 2012 Plan renewal is termed a revision to differentiate it from the previous updates because for the first time since its inception, we fundamentally re­examined the NAWMP's goals. We developed renewed goals through extensive consultation with stakeholders, including Federal, Provincial/Territorial, State and non-­government organization representatives from the continental waterfowl management community.
The 2012 NAWMP Action Plan is a companion document to the 2012 NAWMP. It provides initial guidance and strategic ideas for implementing the 2012 NAWMP. As its title implies, the Action Plan is a call to action. In addition to identifying key actions for each of the seven recommendations in the 2012 NAWMP, it contains technical details and ideas to advance creation of an integrated waterfowl management enterprise. Watch the video to learn more about the Action Plan.