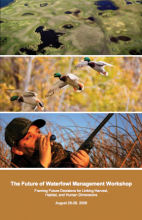 August 26-28, 2008
Held in Minneapolis, MN, the workshop (the first of its kind) was an important step in the evolution of waterfowl management in North America. Throughout its history, the waterfowl management community has shown great capacity for innovative thinking and action in the interest of improving waterfowl management according to specific objectives, as witnessed by creation of the Flyway Councils, the North American Waterfowl Management Plan, Adaptive Harvest Management, and the National Duck Hunter Survey. The Workshop marks yet another key point in the continuing development of a scientifically-based and socially-responsive management framework.
The objectives of the Workshop were that as a result of attending the Workshop, participants would:
Know enough about the features and workings of a coherent framework to understand how enhanced coherence could lead to increased benefits for administrators, managers, and hunters.
Feel that they have a stake and a responsibility in the outcome, and should play a role in enhancing coherence in waterfowl management.
In their respective agencies and organizations; help identify and support the decisions and actions necessary to advance the habitat, harvest, and human dimensions components of a more coherent framework.