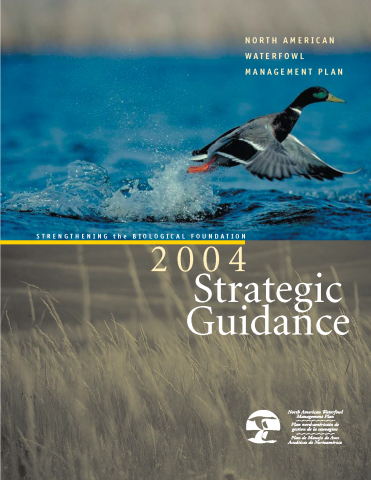 June, 2004
The North American Waterfowl Management Plan (Plan) was originally written in 1986 and envisioned a 15-year effort to achieve landscape conditions that could sustain waterfowl populations. The Plan Committee (representatives from Canada, the United States, and Mexico) has made two previous modifications to the 1986 Plan to account for biological, sociological, and economic changes that influence the status of waterfowl and the conduct of cooperative habitat conservation. Eighteen years on, as we celebrate the accomplishments of Plan partners it is also clear that we must renew our commitment to the Plan.
The intent in preparing the 2004 Plan is to define the needs, priorities, and strategies for the next 15 years, increase stakeholder confidence in the direction of Plan actions, and guide partners in strengthening the biological foundation of North American waterfowl conservation.
To most effectively convey goals, priorities, and strategies, the 2004 Plan is presented in two separate documents. The Strategic Guidance, is comparable in length and scope to the 1986 Plan and the updates of 1994 and 1998. It is directed to all Plan partners, agency administrators, and policy makers who set the direction and priorities for conservation in our three countries.  The companion document Implementation Framework, provides detailed discussion of the Plan's themes and includes much supporting technical information for use by biologists and land managers.
We hope that the thousands of partners involved in the conservation of our natural resources will find these documents useful for continuing their vital work.