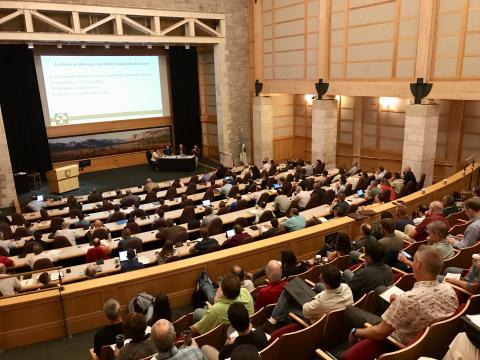 September 26-27, 2017
Held at the National Conservation Training Center in September 2017, the Workshop Approach included:
 Celebrate.  The North American Waterfowl Management Plan (NAWMP) and waterfowl conservation enterprise more broadly is a conservation success story and model…and the foundation on which we are building.
Future-focused.  The success of NAWMP is due to a forward-looking culture. As part of the FoW2, we will explore long-term trends to inform decisions in the next few years. 
Not just the 2018 Update.  Although the FoW2 will provide critically importance guidance for the 2018 Update of the NAWMP, the purpose of the workshop is not just "writing the plan."  The FoW2 will explore issues and seek solutions that affect the entire waterfowl management enterprise and some will fall beyond the scope of the NAWMP. 
2012 Goals.  How do we maintain a vibrant community/enterprise to achieve the goals of NAWMP?  An enterprise capable of achieving NAWMP goals through support of NAWMP directly, but just as importantly through support for broader conservation action embodied in the Blue Ribbon Panel types of efforts.
Participant involvement throughout.  The plenary (all participants together in 1 group) sessions will involve participants through use of TurningPoint technology and through brief interludes of discussion and Q&A.
Wisdom paired with innovation. Design and facilitate the Workshop in a way that acknowledges and seeks to balance the "wisdom of the crowds" along with the opportunity for innovation.  In other words, innovation may emerge out of "minority" views.
Inspired.  As a result of attending the FoW2, participants should feel inspired about the ability of the waterfowl community to influence future conservation outcomes.
Compelling actions.  Most importantly, we want to identify compelling actions that can be taken by the community to achieve those outcomes.